LIABILITY MEDICARE SET-ASIDE & LIEN RESOLUTION FORMS:
Ready to submit your case to PMLS?  It's easy.  Click the below links to download our PDF-fillable Liability MSA Intake Form and/or our Lien Resolution Form.  Instructions for filling out and submitting these forms are located on the first page of each packet.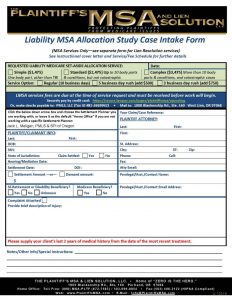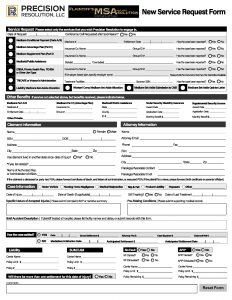 A Liability Medicare Set-Aside (LMSA) Allocation Study creates a recommended amount that a claimant voluntarily reserves from their settlement for future injury-related, Medicare-allowable expenses.
Why consider it?  In the absence of an Allocation Study or legal opinion, Medicare has the right to declare that the entire settlement amount must be exhausted on incident or accident-related medical bills before they pay one thin dime.  Don't let this be you.
While not (yet) legally required, CMS strongly recommends the establishment of LMSA accounts to protect Medicare's Secondary Payer rights.  Using our Allocation Studies to forecast future medical treatments can cap potential exposure to Medicare denial of payments in the future.
An outside legal opinion from a top Medicare attorney may further reduce your client's future payment obligation from their personal injury settlement.
The result?  More money for your clients, less for Medicare.
All Lien Resolution Services:
Medicare Conditional Payments occur when Medicare pays for services related to your client's injuries or conditions that are the subject of the settlement.  Often, these payments take a huge bite out of what they receive. Possibly even the entire amount.  However, it doesn't have to be that way.
Medicaid, ERISA and Medicare Advantage Plans get more and more aggressive in their recovery efforts.  As a result, lien resolution is now much more challenging.  Not to mention, going it alone puts you and your client at risk.  In fact, just ask the First Trial Attorney to Take a Punch in the Mouth from Medicare.
TRICARE and VA liens affect uniformed service members, retired service members and their families.  In effect, making off with valued funds these families need going forward.
How does this happen?  Under The Federal Medical Care Recovery Act, the federal government has the right to recovery of the reasonable value of medical care furnished or paid for by the U.S.  Specifically, under circumstances creating tort liability for such medical care in a third party.
By having a Medical Cost Projection created on behalf of your client, you can assert and expand damages claims with greater confidence.  At a fraction of the cost of a life care plan, the medical cost projection is a vastly underutilized tool in damage models.  The projection will show line-item expenses that account for the entirety of the claimant's future treatment expenses, not just the Medicare allowable portion.  We use the claimant's treatment plan and zip code to ensure precise pricing that will forecast the cost of future medical treatment.
To create a Medical Cost Projection, submit the last two years of injury-related medical records, completed Intake Form, and payment for service.  Once we have received all intake requirements, we will begin work on the case.  The report will be back in your inbox within 10 business days of submission.
Have more questions or want to learn more?  Jack Meligan has 3 informative videos about PMLS' innovative Lien Resolution Services:
Lastly – don't fall victim to The First Biggest Mistake Trial Attorneys Make with regards to Medicare Conditional Payments.
Outsource these headache-causing problems to The PLAINTIFF'S MSA & LIEN SOLUTION (PMLS) instead.  Above all, PMLS is dedicated to plaintiffs paying ZERO to lienholders.  Or, if not ZERO, then as close to ZERO as reasonable and defensible.