LIABILITY MEDICARE SET-ASIDE (LMSA) ALLOCATION STUDY SERVICE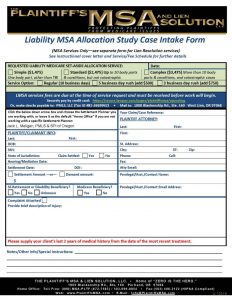 A Liability Medicare Set-Aside (LMSA) Allocation Study creates a recommended amount that a claimant voluntarily reserves from their settlement for future injury-related, Medicare-allowable expenses.
Why consider it?  In the absence of an Allocation Study or legal opinion, Medicare has the right to declare that the entire settlement amount must be exhausted on incident or accident-related medical bills before they pay one thin dime.  Don't let this be you.
While not (yet) legally required, CMS strongly recommends the establishment of LMSA accounts to protect Medicare's Secondary Payer rights.  Using our Allocation Studies to forecast future medical treatments can cap potential exposure to Medicare denial of payments in the future.
An outside legal opinion from a top Medicare attorney may further reduce your client's future payment obligation from their personal injury settlement.
The result?  More money for your clients, less money for Medicare.