Do you expect to negotiate a major settlement in the next four months?
Order this set of three tools today to ensure Medicare Secondary Payer provisions won't deplete the settlement you secured for your client.
Maintain your reputation by protecting your clients' deserved settlements from being drained by liens. Take advantage of this powerful set of tools designed by renowned settlement planning and lien resolution expert Jack Meligan to educate, prepare, and arm plaintiffs' attorneys against lienholders, MSP claims for conditional payments, and other threats to keeping hard-earned settlements intact.
CMS' (Center for Medicare Services) policies on recouping conditional payments made on a plaintiff's behalf has changed dramatically within the last few months, with demonstrated changes in policy reflected in at least one letter sent by CMS in May 2019. It's likely that changes will continue to grow more extreme as we move closer to 2026, the year in which Medicareis projected to become insolvent.
Being unaware of the most recent changes to how CMS recoups its debts could lead to the settlements you worked tirelessly to secure for your clients being drained by liens, leaving your clients furious and without the much-needed money they thought you had won for them.
The plot gets darker for plaintiffs' attorneys: remaining ignorant of how substantive law is currently being applied to personal injury matters involving Medicare has resulted in damages being sought directly against the attorney representing the matter.
Here's the good news: you can avoid this fatal mistake by making an investment in your future as an attorney today. Trial Guides and the Plaintiff's MSA & Lien Solution (PMLS) has partnered to create three tools designed to give plaintiffs' attorneys like yourself the most updated legal knowledge and proven strategies to defeat lienholders' claims, reject the prospect of future conditional payments, and remain in compliance with United States courts.
Trial Guides and PMLS have partnered to bring you three unparalleled tools for plaintiffs' attorneys determined to make sure they always have access to most updated and relevant legal information. These tools are:
The Insider's Guide to Avoiding MSAs – For Plaintiff Attorneys only

MSP Future Medicals Disclosure Form

PMLS' Medicare Conditional Payments Lien Resolution Service
Trial Guides and PMLS have long partnered on scholarship opportunities for promising young lawyers, but recently expanded their collaboration to offer the legal community something far more valuable: a set of three tools certain to give you the knowledge and guidance you need to fully represent the interests of your clients.
Attorneys like yourself can take advantage of these tools to completely avoid LMSAs and the trap of ignoring the threat of future conditional payments.
Your clients hired you because they expect the best possible representation. With the purchase of these three tools, you will be more than prepared to fiercely advocate for your clients.
These tools make it possible for you to keep your clients satisfied by helping them hold onto their settlements. After all, the settlement should go to the client and the attorney's fees should go to you – and certainly not to pay a Department of Justice fine.
MSP / Medicare law evolves by the day, but your obligation as competent legal representation to remain knowledgeable about the current substantive law never eases.
CMS confirmed the settlement was iron-clad – and then sent a demand letter sixty days later.
John Merting Case, 2003.
Florida attorney John Merting called CMS multiple times in the process of settling a Jones Act case. CMS repeatedly told Merting that no future conditional payments would be expected to be repaid to Medicare. Merting even made sure to obtain a statement in writing from CMS reading that the settlement was well-planned.
Through hard work and skillful lawyering, Merting won his client a $5.5 million settlement. Sixty days after the settlement, Merting's client received an unfortunate letter from CMS. The letter instructed the pair that unless they could prove the client had spent $5.5 million dollars – essentially, the entire settlement – on future medical expenses relating to the injuries spawning the original lawsuit, Medicare would refuse to cover any medical treatment related to the original injury.
$28,000 fine and the threat of treble damages
Press Release, Dept. of Justice, Philadelphia Personal Injury Law Firm Agrees to Start Compliance Program and Reimburse the United States for Clients' Medicare Debts (June 18, 2018) (available online)
Philadelphia Attorney Jeffrey Rosenbaum successfully won nine of his clients' settlements – clients whose lawsuits were caused by injuries that at one point received medical care paid for by Medicare. Rosenbaum forgot or was unaware he was responsible, as are all parties who receive any proceeds from a settlement or judgment, for paying Medicare back for conditional payments made before disbursing these settlements. The US Department of Justice filed suit. Ultimately, this lawyer was forced to pay a $28,000 fine.
The DOJ forced Rosenbaum to make mandatory changes to his staffing, retained the right to audit his law firm for compliance at any time, and warned Mr. Rosenbaum that he would be penalized under the False Claims Act should he ever make an another error with a conditional payments resolution. False Claims Act charges carry the weight of treble damages.
Double damages on a lien already worth nearly half the entire settlement
Humana v. Paris Blank LLP, 2016 WL 2745297 (E.D. Va., May 10, 2016).
Humana, a private insurer, issued a lien waiver against an enrollee's lawyer for $191,612.09 – a number worth close to half of the $450,000 settlement — on the grounds that it was a secondary payer and entitled to repayment from any settlement. The law firm refused to pay, resulting in Humana suing for double damages.
Ultimately, the court found the argument that insurers offering Medicare Advantage Plans (MAPs) are eligible for repayment sufficiently convincing. The same legal theory that Medicare itself uses to recover payments made conditionally served Human equally well.
Not only did the court find Paris Blank LLP in the wrong, Paris Blank's malpractice insurer refused to cover the second set of damages.
Attorneys held directly responsible for repaying Medicare for $250,000 of conditional payments
Press Release, Maryland Law Firm Meyers, Rodbell & Rosenbaum, P.A., Agrees to Pay the United States $250,000 to Settle Claims that it Did Not Reimburse Medicare for Payments Made on Behalf of a Firm Client (March 19, 2019) (available online)
Directly from the press release: "Attorneys … are often in the best position to ensure that Medicare's conditional payments are repaid," said U.S. Attorney Robert K. Hur.
"We intend to hold attorneys accountable for failing to make good on their obligations to repay Medicare for its conditional payments."
The Maryland law firm was ultimately subject to a $250,000 fine payable to the United States government, mandatory changes to staffing, and a cold reminder that law firms should never disburse settlement proceeds until they've received a final demand from Medicare for any outstanding debt – however long that takes.
Attorneys are honor-bound to stay aware of how substantive law is applied by today's courts. You risk opening yourself to a legal malpractice claim if you fail to employ the requisite knowledge and skill needed to successfully represent a client in matters of grave importance – and protecting a settlement your client might depend upon to support them financially for the rest of their life certainly qualifies.
CMS reviews of your MSA allocations or other settlement planning procedures, even issued in writing, are not guaranteed wards against future letters from Medicare demanding repayment for conditional payments. Attorneys often fail to include repayment of conditional payments in settlement planning or to even discuss the issue ahead of time with their clients – both mistakes that can lead to damages, legal claims, and sanctions.
When an attorney fails to consider the requirements of MSP provisions, MSAs, and lienholders, that attorney takes on at least three unacceptable risks:
Their clients may have to surrender most of their well-deserved settlement to conditional payments, both past and future. These attorneys will find themselves with furious clients ready to air their grievances to anyone who will listen – including their state's disciplinary board.
Attorney fees earned through skilled legal work could instead end up funding fines levied by the Department of Justice for non-compliance with MSP / Medicare repayment procedures.
Legal malpractice claims, claims of lienholders, and claims brought under the False Claims Act brought against such attorneys by the Department of Justice, enraged former clients, or even by third party insurers all become possibilities.
Keep the settlements you negotiated in your clients' bank accounts by leveraging three tools masterminded by PMLS founder Jack Meligan, a nationally recognized LMSA specialist and accredited continuing legal education (CLE) provider. Jack Meligan has used these tools in his work with over 1,400 plaintiffs, creating a proven framework for reducing liens and eliminating the need for MSAs while neither jeopardizing the rest of the settlement nor any attorney's legal standing to practice. For the first time ever, these tools have been made available exclusively to Trial Guides attorneys like yourself.
Use these tools to plan settlements correctly from the very first step to avoid these career-ending pitfalls. Planning your clients' settlements correctly from as soon as negotiations begin is a critical factor in making sure your clients are happy with your services and in that you're providing the competent counsel your clients deserves. In fact, not doing so leaves settlements and attorney's fees vulnerable to financial demands from Medicare in their capacity as a secondary payer.
The tools available to you today enable you to ensure any settlements you negotiate as legal representation are iron-clad against encroachment. Protect your clients' well-deserved settlement money through the proper implementation of the following three tools.
Top lawyers know that research and preparation is key to successfully representing clients in complex matters. Used individually, each tool provides a basis for navigating Medicare law as a plaintiffs' attorney. Used collectively, these tools provide a safeguard against liens, Medicare predicaments, and risking misinterpretations of how the law is applied today.
Tool #1: PMLS' Medicare Conditional Payments Lien Resolution Service.
Hundreds of grateful attorneys have paid $750 per service for PMLS' lien resolution service. PMLS regularly succeeds in reducing liens by up to 100%. More importantly, PMLS' guidance prevents LMSA and Medicare issues from reoccurring ever again in the future and is backed by legal authority ensuring that any decisions made will be enforceable in a court of law. PMLS' proprietary lien resolution service is nationally recognized as being the single most effective lien resolution procedure available to attorney diligently working to protect their plaintiffs' best interests.
For the next ninety days alone, Jack Meligan is making this incredible service available for $1.
Tool #2: MSP Future Medicals Disclosure Form
You can prevent later problems with MSP-related liens by beginning to evaluate how to best protect your client's settlement from encroachment as soon as negotiations begin – if not sooner. The MSP Future Medicals Form was designed to help plaintiff attorneys document their claimant's decisions about how that claimant intends to protect Medicare's interests. Implement this tool early in the claimant intake process to ask your clients the questions you didn't know you had to ask them, to document client decisions that may preclude legal malpractice claims down the road, and to get the information you need to make the best decisions as legal representation of an injured party.
If you want to disburse a settlement without issue, you need to make sure you handle preparations correctly before you so much as begin negotiations. This tool makes that possible.
Tool #3: The Insider's Guide to Avoiding MSAs – For Plaintiff Attorneys Only.
Competent attorneys know that MSPs, MAPs, and repayment of conditional payments already paid by Medicare cannot be avoided when negotiating and planning personal injury settlements. You might not have known, however, that PMLS' experience demonstrates that over two-thirds of claimants can completely avoid an LMSA through either medical excusal or legal strategy. Without an MSA or with an MSA allocated exactly $0.00, the entire settlement remains for your client to enjoy – and you can practice free of any concern that a demand notice arrive in your firm's mailbox. This guide provides a powerful strategy for avoiding MSAs on a medical basis backed by substantial government authority guaranteed to stand up in court.
Use this tool to avoid MSAs without burying your head in the sand, to keep your clients' settlement money in their wallets, and to do so while remaining in compliance with the law.
Meet Jack Meligan, the creator of these tools
Nationally Recognized Expert and Speaker on Settlement Planning, MSP Provisions, and MSAs
Jack Meligan, RSP, BCFE, MSCC, CMSP-F is a nationally renowned expert on settlement planning, lien resolution, and Medicare Set-Asides (MSAs). As the founder of three separate firms dedicated to protecting plaintiffs' interests regarding personal injury settlements including Settlement Professionals, Inc., Settlement Capital Advisors, LLC, and the Plaintiff's MSA & Lien Solution, LLC, Jack is best known as an innovator and problem-solver for injured plaintiffs, having pioneered a number of innovative strategies within the settlement planning industry over the course of his 30+-year long career.
Jack Meligan's diligent work has helped over 1,400 attorneys and their plaintiffs in maintaining the value of negotiated settlements and in reducing liens by as much as 100%. As an Certified Medicare Secondary Payer Professional Fellow, as the founding president of the Society of Settlement Planners, and as an accredited CLE provider, Jack Meligan is more than the clear leader in his field. He's the information source you'll want to rely upon for your questions involving MSAs, Medicare, conditional payments, and settlement planning.
"The professionals at PMLS stand alone in settlement planning and saving MSA dollars for my clients. They work with plaintiffs—and plaintiffs only—and have been leaders in advancing the art and providing protection for those who need it most. PMLS has my unqualified recommendations and endorsement."
"When I brought my claimant's medical records to be reviewed by PMLS for the purpose of performing an MSA Allocation Study, the result was that the MSA was nearly the entire net settlement. Luckily, the Medicare experts at PMLS had a game plan to avoid the MSA entirely, and it worked. I received a legal opinion that determined my client did not have to cut into their net settlement with an MSA and still protected their future Medicare benefits."
"These folks really know what they are doing—saved one of my clients from potentially overfunding their voluntary Liability MSA to the tune of $247,538!"
You owe it to your clients to use these tools to support your zealous representation of their cause – and you owe yourself the right to practice without fear of misapplying the rapidly changing substantive law.
These three tools collectively create a manual you need to provide the most competent legal representation your clients could imagine. Prevent future conditional payments from consuming the settlement that should rightfully be enjoyed by your injured client.
Adapting to the changes made in the last few months to the substantive law of Medicare becomes infinitely easier with the use of  the three tools created by an expert in MSP law, settlement planning, and MSA allocation/avoidance. By planning a settlement carefully from claimant intake to disbursement, you can avoid all legitimate accusations of legal malpractice and make sure your clients have access to the money they need. Leave your clients satisfied and the settlement intact with the help of the 3 tools offered here & designed by renowned MSP and settlement planning expert Jack Meligan, RSP, BCFE, MSCC, CMSP-F.
When you're ready to order, click on one of the buttons reading "ACCESS THE TOOLS YOU NEED" or call 888-MSA-PLTF (888-672-7583). PMLS is always happy to help attorneys offer their best work to their clients and we'll be thrilled to pick up the phone as soon as you're ready.
To those who have already invested in this toolset: thanks for being a Trial Guides attorney and for working to make sure plaintiffs receive full access to the settlements they deserve.
If you haven't yet committed to using these tools, don't wait any longer—you'll be grateful you made the investment in your future long before the next Settlement you negotiate disburses.
---
How To Order
To receive any of the 3 tools we are offering, please fill out the form below.

If you have any trouble with this form, then please call us directly at 503-699-8854 or 888-MSA-PLTF (888-672-7583)
---
Our Lien Resolution Service is Deadly to Lienholders
We provide plaintiff attorneys with, hands down, the most DEADLY EFFECTIVE lien resolution service in existence. Deadly to lienholders, that is. Because we routinely deliver lien resolutions and reductions of 60%, 80% and even 100%.
At PMLS our battle cry is Financial Justice For Injury Victims. We work with Plaintiff Attorneys ONLY. Furthermore, we work hard to prevent ALL LMSAs and Medicare issues from taking any money from an injury victim's settlement.
In fact, one of our most popular services is our $750 Medicare Conditional Payments Lien Resolution Service.
As shown above, Trial Guides has made it possible for you to receive this innovative service – One Time Only— for just $1.00.
This is not a trick and not a mirage. You can thank Trial Guides, Dr. Aaron DeShaw, and Lisa Carper, for obtaining this special benefit and offer:
If, in the next 90 days, you order our Medicare Conditional Payments Lien Resolution Service for one of your clients, then you will pay just ONE DOLLAR. Saving you $749.00 off our initial fee of $750.00.*
*Note: Our contingent fees for successfully resolving a Medicare Conditional Payment lien with a reduction that saves your client money is not part of this offer. Hey, we have to make something so we can pay our fierce lien litigators for their fantastic results.)
---
"The Lienholders Aren't Owed Anything"
At The PLAINTIFF'S MSA AND LIEN SOLUTION ZERO IS THE HERO is an innovative tactic we introduced to the industry.
We also have copped an attitude. Basically, that attitude is that —"The Lienholders Are Owed Nothing":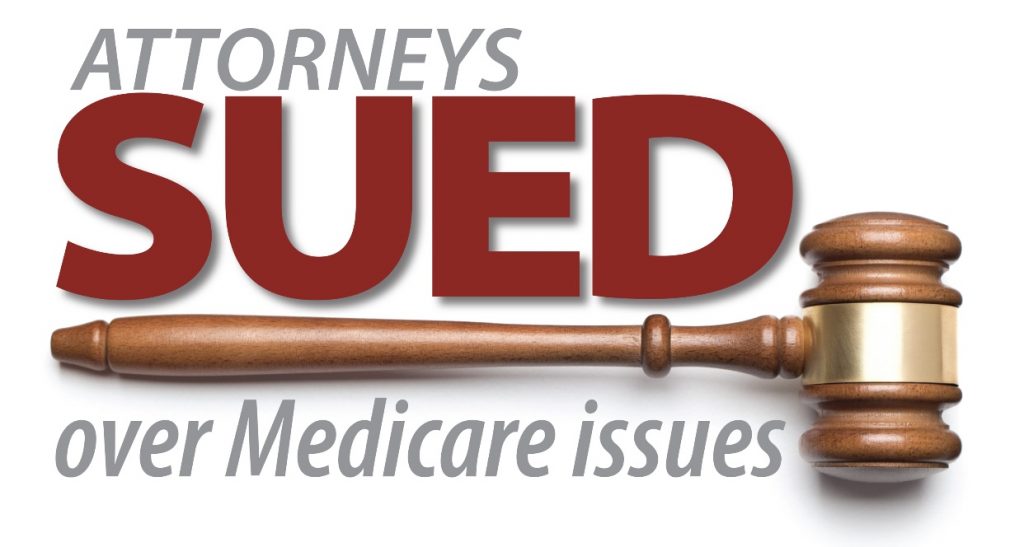 From Jack's Desk #32: Medicare vs. Trial Lawyers –
It's Worse Than We Thought – Sued, Suspended & Disbarred
Attorneys are being sued, suspended, and even disbarred over Medicare issues!
In this video I tell you about three attorneys who have been impacted by Medicare issues, including one who was suspended, and another who was disbarred: www.plaintiffsmsa.com/from-jacks-desk-32-medicare-vs-trial-lawyers-its-worse-than-we-thought-suspended-disbarred
From Jack's Desk #27 Attorneys Sued Over Medicare Issues

I regularly have plaintiff attorneys tell me –
"Until attorneys get sued over Medicare issues, I am not going to deal with them"
Well – attorneys ARE being sued over Medicare issues.
In this video I tell the story of FIVE different situations where attorneys faced monstrous Medicare issues. Specifically, four attorneys were sued over Medicare issues and one attorney was given disastrous advice directly from Medicare: www.AttorneysSuedOverMedicareIssues.com
---
Put Us To Work On Your Medicare Conditional Payments Lien Resolution Situation
If you are ready to have us help you with a Medicare conditional payments lien resolution situation, then please call us at 888-MSA-PLTF (888-672-7583. Or, this link here will take you to the order form you need to get started – www.plaintiffsmsa.com/3-tools-to-avoid-lmsas-and-medicare-issues-an-offer-exclusively-for-the-trial-guides-community
For more information about how THE PLAINTIFF'S MSA & LIEN SOLUTION can help you CONQUER your Medicare and lien problems, and possibly make them DISAPPEAR – go to the PMLS website at www.plaintiffsmsa.com, or call us at 888-MSA-PLTF (888-672-7583).
Regards,
Jack Meligan, RSP, BCFE, MSCC, CMSP-F
Your Medicare & Lien Problem Solver
P.S. I regularly create a PLAINTIFF'S MSA & LIEN SOLUTION video email and distribute this resource to plaintiff trial attorneys, and paralegals, who are serious about stopping Medicare issues cold.
In order to stay up to date on my insightful perspectives and strategies about Medicare and lien issues, subscribe to our email newsletter at: https://plaintiffsmsa.com/subscribe-jacks-medicare-issues-video-email/