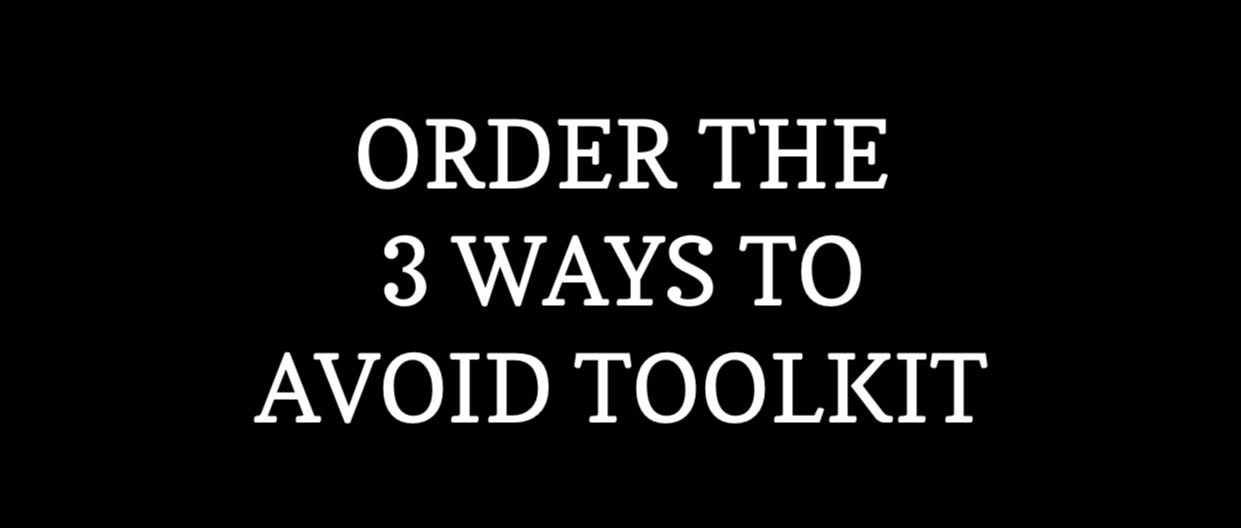 KNOCKOUT MEDICARE ISSUES AND FIGHT TORT REFORM
Order the 3 WAYS TO AVOID AN LMSA Toolkit
The toolkit order link is immediately below the short video

Jack Meligan made to help answer questions you may have:
When you Order the
3 WAYS TO AVOID AN LMSA Toolkit:
#1 The 3 WAYS TO AVOID Step-by-Step Guide
We will send you our concise 4 page step-by-step guide detailing each of the 3 WAYS TO AVOID AN LMSA.
#2 Phone Consultations
You will receive an initial phone consultation with us to help you with applying the first way to AVOID AN LMSA to your specific case.
If needed, we will provide you an additional second phone consultation to help you with deploying the second & third ways to AVOID AN LMSA.
 #3 Donation to Stop Tort Reform
For each toolkit purchased PMLS will donate $50 to an anti-tort reform entity of the buyer's choosing.
You can choose to have the donation go to:
1)  Your local trial lawyer association's anti-tort reform program
2) The American Association of Justice (AAJ)
3) 1/2 to your local trial lawyer association and 1/2 to AAJ
When we call you for your first phone consultation we will ask you for your preference.
More Info About The
3 WAYS TO AVOID AN LMSA Toolkit
NOT addressing future Medicare expenses in your client's settlement can be dangerous for both you and them. Looking for the best way to avoid that long-tail liability and also increase your client's net settlement dollars? Then The PLAINTIFF'S MSA AND LIEN SOLUTION (PMLS) has the answer for you. The 3 WAYS TO AVOID AN LMSA Toolkit. This tool kit makes doing the right thing for your clients easy by tackling the Medicare costs issue head on. Instead of ignoring it, and increasing the risk that Medicare denies future payments. And even possibly seeks repayment of sums conditionally paid, post settlement.
Only available from PMLS, the 3 WAYS TO AVOID AN MSA resource provides you with 3 separate ways to help your clients avoid an MSA where possible. In addition to this tool kit, you get two 30-minute consultation calls to help you through each of these three steps. Finally, $50 from every tool kit sale WILL be donated to the state or national anti-tort reform organization of your choice. Ready to order? Here's how it works.
Once we receive your payment for the tool kit, we will immediately send you our 3 WAYS TO AVOID resource via email. As mentioned, along with the concise tool kit (by our estimate, an 8 minute read) we will call you to answer any questions and help you strategize the implementation of our 3 different methods of nullifying your claimant's potential future Medicare issue.
Why We Offer This Toolkit
At PMLS, our first step is to help claimants AVOID AN MSA if medically or legally possible. However, it is important to understand that an LMSA is still NOT (yet) required by law. It is, in fact, a voluntary act by a plaintiff or claimant that cannot AVOID AN LMSA, and then decides to create and fund some sort of "arrangement." Specifically, one that will be used to pay future incident-related and Medicare-allowable bills for services related to the injuries and conditions that are being released in a settlement.
If you believe that your client (like approximately 67% of the claimants we have helped) should be eligible to AVOID AN LMSA altogether and save tens of thousands of dollars of unnecessary funding, without jeopardizing their future Medicare benefits or creating a long-tail liability for you, the trial lawyer, then this tool kit may be your best solution. Order our 3 WAYS TO AVOID Toolkit, a huge value at $479, via the form below.
Or, if your client cannot avoid potential cost-shifting to Medicare for future treatments for their incident-related conditions, then we should talk. Either way, we are always available for FREE initial consultations.